7 Websites to Find Free Sheet Music
7 of my favorite sites to find tons of free sheet music for any instrument.
Let's face it, sheet music gets lost and damaged. In fact, I don't know a single musician who hasn't had a nightmare about showing up to a performance only to notice that they have forgotten an important something... Which is why it's useful to know where you can find free printable sheet music. Here is a list of some of my favorite websites with free sheet music.
IMSLP
IMSLP is a library of public domain music. That means that there are no copyright issues to using this music and that you can freely use any of the resources found on this website. They have a massive database: 460,000 musical scores, 17,000 composers, and 54,000 recordings, and they support 28 different languages. The site uses Google search and all works are organized alphabetically, so it's extremely easy to find exactly what you're looking for. I use this site for two main purposes: 1. To find PDF versions of the etude books I own 2. Look at the full scores for pieces I am practicing. You'll be surprised at how many instrument-specific etude books you can find with a little bit of digging -- one thing that might make it challenging for beginners is that the pieces are notated in their original language, so many of the titles might look unfamiliar because they are in French, German, or Italian.
MUSOPEN
MUSOPENalso has a library of public domain sheet music and recordings. However, their database isn't as extensive as IMSLP and they do show some ads on the site. However, they do allow you to search by instrument, which makes it easy to find trumpet sheet music or whatever you're specifically looking for. Two features that are unique to MUSOPEN are their streaming radio station and their education center. While their education resources are still under development, there are a ton of great articles for beginning musicians.
8Notes
8Notes site is organized by instrument and they have everything. They even have free sheet music for the recorder and mandolin. When you go into a specific instrument's section, they further break down their resources into categories like classical sheet music, jazz, rock and pop, difficulty levels (beginners through advanced), and even play-along tracks. If you're a music teacher, then you'll enjoy how much popular music you can find on this site. From my experience, teaching concepts through current music is an easy way to keep the student motivated and reduce some of the learning time as there is already some familiarity with the piece. If you want even more options, there is a paid subscription version that is $20 a year.
MuseScore
MuseScore is a site where individuals can contribute their own arrangements. This is awesome because that means you have an ever-growing database of pieces, but it does mean that some of the quality might be in question. However, MuseScore allows you to "favorite" pieces, which gives you an indication of how many other musicians have enjoyed the piece.
MuseScore provides some pretty cool tools to help musicians practice each of these arrangements. You can listen to a midi recording of the piece (with each bar being highlighted as it is played), a piano keyboard that shows the keys being played along with the recording, and a metronome. Unfortunately, some of these features are only accessible with their "Pro Membership." As of this article publishing, the membership fee is $49 USD a year.
MutopiaProject
With 2,117 pieces, the MutopiaProject isn't the most extensive, but it does have a good mix of musical genres available for download. All of which are public domain or under creative commons license, so you can do whatever you want with the music. Their files are available in several file formats (pdf, ps, mid, and ly)
BandMusicPDF
Many of the free music sites we've covered feature orchestral, small ensemble, or solo instrumental music. BandMusicPDF focuses on wind band music making it a tremendous resource for band directors and band students. As of this writing, their library has just under 3,700 pieces available.
Some other features band directors will appreciate are the inclusion of the piece's grade level, notation of which parts are missing, date, and genre.
Free Scores
Free Scores has bagpipe music. That should tell you everything you need to know about how extensive the resources are. The searchability of this site is great, too, as you can search by composer, instrument, or musical style. One thing of note is that this site includes a really nice selection of free choir music. Many of the pieces include a brief historical description of the musical work and a high-quality recording.
Free Blank Sheet Music
Of course, sometimes you just want blank sheet music (also called manuscript paper) to compose with. You can buy a book of it, or you can print out this free version we have made for you.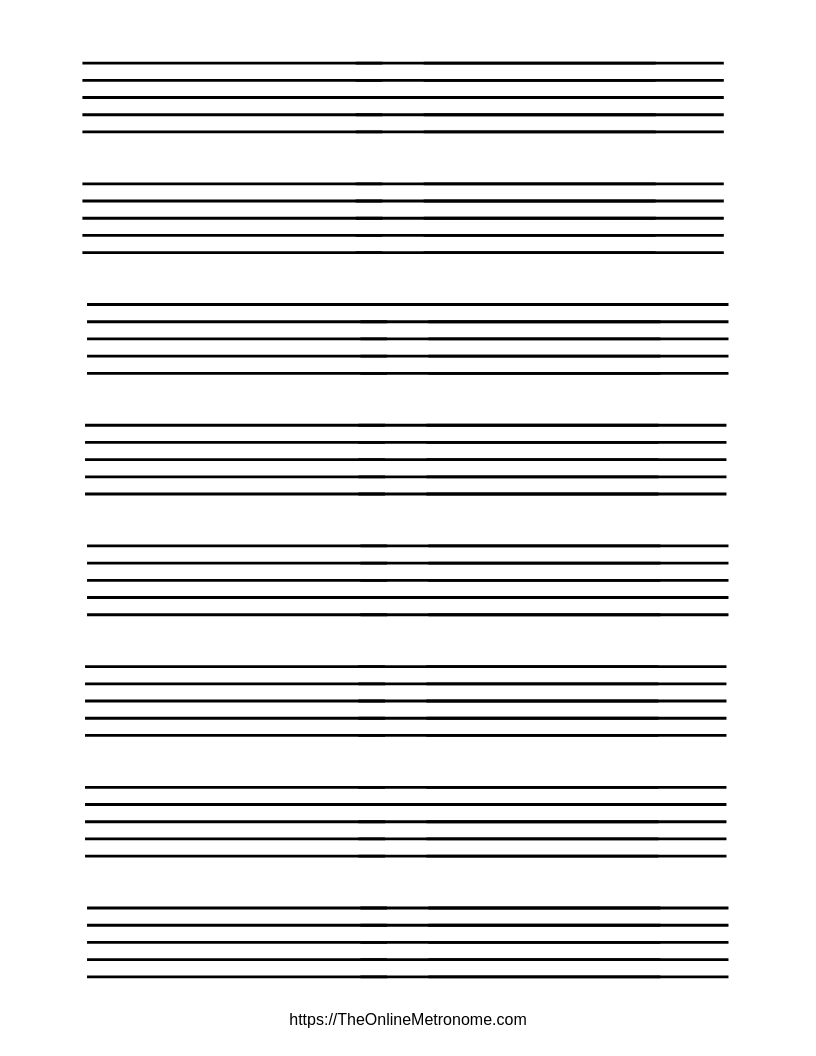 What did we miss?
Is there a resource that you love and we did not include on this site? Please let us know and we will be happy to update our list.
---