Mellophone Fingering Chart
Printable Mellophone Fingering Chart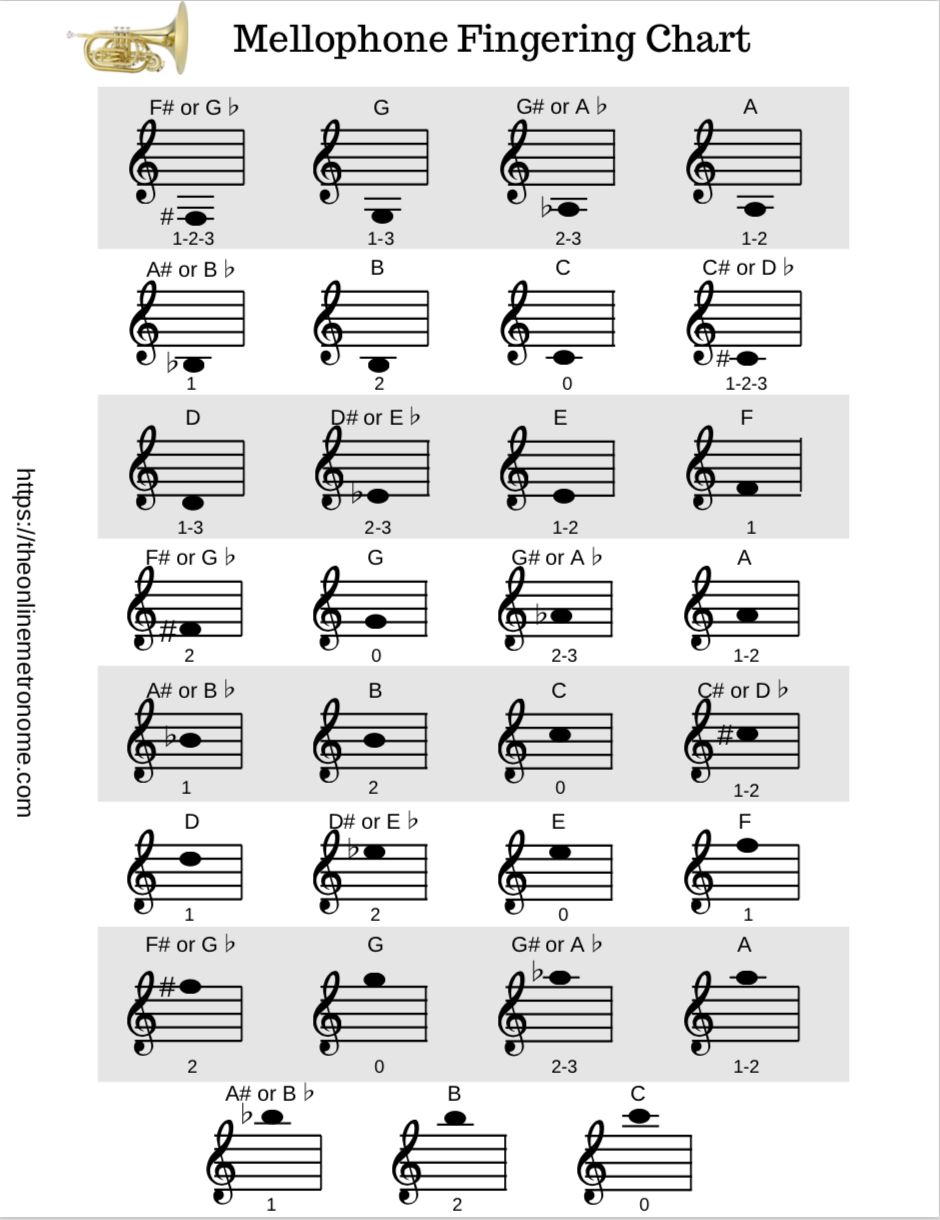 Download
How To Use A Fingering Chart
It can be helpful to have a fingering chart when you are beginning a new instrument. The trumpet is like most brass instruments in that you use valves to change pitch. I've always found it helpful to start to learn fingering through scales. This will help you get comfortable with fingerings in a given key.
Once you have the basics, go to real music and try to play through a passage. When you encounter a note you don't know look at your fingering chart. Take a pencil and write the fingering under the note. Practice the passage slowly so your fingers can get a feel for the passage. Once you feel comfortable (usually after three times through the passage), erase the written fingering. Play through the passage a few more times slowly and see if you remember the fingering. If you forget, write the fingering back in.
What is a mellophone?
A mellophone is a brass instrument that is considered the marching version of a French horn. It's better suited for marching than a french horn for a couple of reasons:
A mellophone's bell faces forward, making it easier to project.
Because it is held like a trumpet, it is easier to keep stable when moving.
French Horn vs. Mellophone
Let's look at how the mellophone and french horn are similar:
Both the mellophone and french horn are pitched in F
They have similar ranges, though the French Horn has a greater low register.
They are both conical bores.
Their tones are similar and so they serve a similar role in terms of orchestration.
But any french horn player will tell you, these are still two different instruments. Here is how the french horn is different from the mellophone:
The mellophone looks like a large trumpet.
It has a forward-facing bell.
It is not as curled as a french horn.
It uses piston valves, where most french horns use rotary valves.
The fingerings are more similar to a trumpet's fingerings than to French horn fingerings, including the need to use a slide to adjust the intonation of any third-valve combination.
While you can use a French horn mouthpiece, a mellophone mouthpiece also exists. It is similar to a trumpet mouthpiece but larger and deeper.
The French horn is playing with the right hand resting inside the bell. This allows the musician to make adjustments to the intonation. On the mellophone, all tuning must be done using the thumb and third-valve slide.
While they sound similar, they do not sound the exact same. I might be biased, but as a French horn player, I think the mellophone does not have as rich a tone.
Is a mellophone easier than a french horn?
Yes. At least, that is the consensus of most French horn players. The reason the French horn is notoriously difficult is because of where its performance range sits in its overtone series. Without getting too technical, it means that many of the notes feel closer together, making it easier to miss notes. The mellophone doesn't have this issue, making it feel easier to hit and center the notes.
Mellophone Fingering Chart
| Note | Fingering |
| --- | --- |
| F-sharp or G-flat | 1-2-3 |
| G | 1-3 |
| G-sharp or A-flat | 2-3 |
| A | 1-2 |
| A-sharp or B-flat | 1 |
| B | 2 |
| C | 0 |
| C-sharp or D-flat | 1-2-3 |
| D | 1-3 |
| D-sharp or E-flat | 2-3 |
| E | 1-2 |
| F | 1 |
| F-sharp or G-flat | 2 |
| G | 0 |
| G-sharp or A-flat | 2-3 |
| A | 1-2 |
| A-sharp or B-flat | 1 |
| B | 2 |
| C | 0 |
| C-sharp or D-flat | 1-2 |
| D | 1 |
| D-sharp or E-flat | 2 |
| E | 0 |
| F | 1 |
| F-sharp or G-flat | 2 |
| G | 0 |
| G-sharp or A-flat | 2-3 |
| A | 1-2 |
| A-sharp or B-flat | 1 |
| B | 2 |
| C | 0 |
---