Clarinet Fingering Chart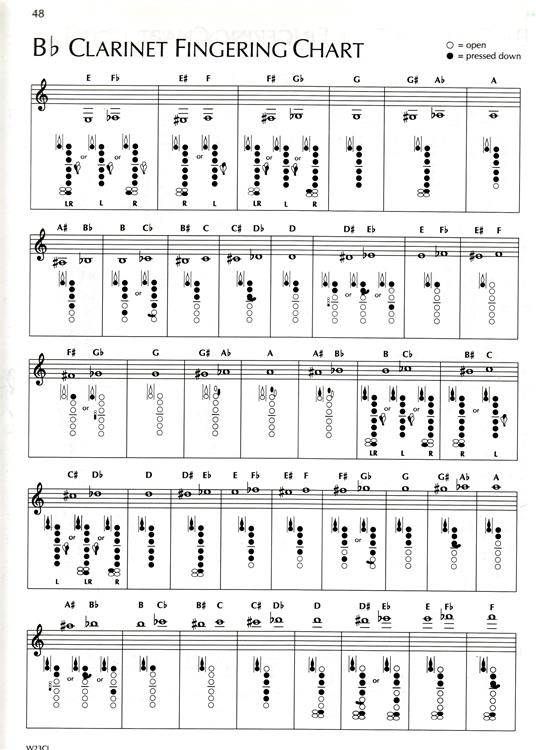 Download
Using A Clarinet Fingering Chart
When you look at the clarinet, one of the first things you'll notice is it has a lot of keys. The clarinet changes pitch by opening and closing tone holes. These can be closed by using the pads of your fingers or through the use of mechanical keys to cover the hole. There are many ways to make the same pitch using different combinations of keys, which is where a fingering chart comes in handy.
On the clarinet, there are two times you should consider looking for an alternate fingering: 1. During a fast and technical passage where the fingering combinations are difficult. 2. When a note is out of tune.
In both cases, make sure you practice with a tuner and listen for the tone quality.
How To Hold The Clarinet
Make both your hands into relaxed "C" shapes. Sometimes beginning players will have their hand collapse the "C" shape. This will slow down your technique.
You'll also want to make sure you are always using the pads of your fingers. This is the best way to make sure you are completely covering the tone hole. Not covering it completely will cause notes to be out of tune.
Right Hand Position
Put right thumb knuckle just under the thumb rest.
Place the pads of your fingers on the keys. The pad is the soft, fleshy part with your fingerprints on it.
Your index finger, middle finger, and ring finger should cover the tone holes.
Your pinkie finger should hover over the pinky keys. Avoid hooking your pinky under the keys to help support the weight of the instrument. If you have a hard time supporting the weight of the clarinet, consider purchasing a neck strap.
When you lift your fingers off the keys, try to keep them low over the keys. Again, this will help with fast technique.
Left Hand Position
Place the pads of your index, middle, and ring fingers over the tone holes. Your thumb should be near the tone hole. If you imagine the tone hole as a clock, your knuckly should be at the 7:30 or 8:00 position.
Types Of Clarinets
The basic fingering chart we show here is for the b-flat clarinet, but there are many other clarinets in the larger clarinet family.
Piccolo clarinet in A♭
Soprano clarinets in E♭, D, C, B♭, A and G
Basset clarinet in A
Basset horn in F
Alto clarinet in E♭
Bass clarinet in B♭
Contra-alto clarinet in EE♭
Contrabass clarinet in BB♭
Fingering Chart For The Clarinet
| Note | | Fingering |
| --- | --- | --- |
| E | | |
| F | | |
| F-sharp / G-flat | | |
| G | | |
| G-sharp / A-flat | | |
| A | | |
| A-sharp / B-flat | | |
| B | | |
| C | | |
| C-sharp / D-flat | | |
| D | | |
| D-sharp / E-flat | | |
| E | | |
| F | | |
| F-sharp / G-flat | | |
| G | | |
| G-sharp / A-flat | | |
| A | | |
| A-sharp / B-flat | | |
| B | | |
| C | | |
| C-sharp / D-flat | | |
| D | | |
| D-sharp / E-flat | | |
| E | | |
| F | | |
| F-sharp / G-flat | | |
| G | | |
| G-sharp / A-flat | | |
| A | | |
| A-sharp / B-flat | | |
| B | | |
| C | | |
| C-sharp / D-flat | | |
| D | | |
| D-sharp / E-flat | | |
| E | | |
| F | | |
---